CambridgeMATHS NSW Syllabus for the Australian Curriculum Year 10 Stage 5.1/5.2/5.3
To access your resources Log in or create your Cambridge GO account Activate your resources by entering the access code found in the front of your print textbook, sealed pocket or supplied via email.
CambridgeMATHS NSW Syllabus for the Australian Curriculum is a complete teaching and learning program to support the implementation of the NSW Syllabus for the Australian Curriculum.
Available now on Cambridge GO:
PDF Textbook: a downloadable version of the student text, with note-taking and bookmarking enabled. The PDF textbook can be used in class or as a reference at home. To access the PDF textbook, students simply register for a Cambridge GO student account before accessing and/or downloading the PDF Textbook using a unique code found in the front of the printed textbook.
Additional teaching materials: Teaching programs, Working program and Scope and sequence chart.
Teacher Edition resources: Teacher Edition PDFs, Chapter tests and answers, Worksheets and answers, Worked solutions and Chapter summary posters.
PDFs updated 21 March 2019.
To view a sample chapter, click on the file below in blue.
PDF Textbook full title
PDF Textbook chapters
Preliminary pages [PDF 1.1Mb]

Chapter 1: Measurement [PDF 10.6Mb]

Chapter 2: Indices and surds [PDF 5.0Mb]

Chapter 3: Probability [PF 6.5Mb]

Chapter 4: Single variable and bivariate statistics [PDF 7.4Mb]

Chapter 5: Expressions, equations and linear relationships [PDF 2.7Mb]

Semester review 1 [PDF 1.5Mb]

Chapter 6: Geometrical figures and circle geometry [PDF 6.9Mb]

Chapter 7: Trigonometry [PDF 9.7mb]

Chapter 8: Quadratic expressions and quadratic equations [PDF 5.6Mb]

Chapter 9: Non-linear relationships, functions and their graphs [PDF 13.4Mb]

Chapter 10: Logarithms and polynomials [PDF 4.3Mb]

Semester review 2 [PDF 0.9Mb]

Answers [PDF 6.4Mb]

Index and Glossary [PDF 0.8Mb]
You are entitled to download and store these PDFs. However they may not be transferred to another party, including other students, as electronic or print versions.
To use the enhanced PDF functions, such as note taking, you must download these PDFs to your computer and open them with Adobe Reader 9 or later.
The PDF Textbook is designed for full functionality using the latest version of Adobe Reader. The markup function is available in selected PDF readers for the iPad and other devices using iOS. Check your PDF reader specifications. At the time of publication, Adobe Reader, Good Reader and PDF Expert were viable options.
Note that some PDF file names may comprise the ISBN and chapter number.
| | |
| --- | --- |
| You must have Adobe Reader installed to view the PDF files. | |
Now available
Teaching programs
Year 10 Units 1-16 Teaching programs [Zipped Word files]
Please note that these files are the same as those for Year 10 Stage 5.2
Log in with your teacher account to access these documents
Working program
Working program [Word 0.3Mb]
Stage 5 Syllabus guide [Word 0.3Mb]
Please note: The Teacher Resource Package does not include access to the PDF Textbook. Please use the 16-character code in the front of your textbook to access the PDF Textbook.
Log in to your teacher account to access:
Teacher Edition PDFs
Chapter tests and answers
Worksheets and answers
Worked solutions
Chapter summary posters

Download
Preview pages
CambridgeMATHS/HOTmaths integrated program
21 March 2019
Chapter 8, Chapter summary p. 547
In the top green 'Factorising' box, swap b and c. It should read:
Two numbers
x to give c
+ to give b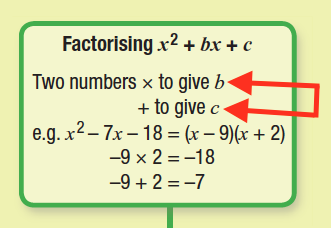 15 June 2018
Page 315: Example 39, the solution is incorrect. The correct answe ris 5, as 3d=15, therefore d=5.

22 December 2014
Chapter 9, p657
The second equation on the page currently says

.
This s at the beginning of the equation should be an a, so that it reads: